Race Date: Sunday,
February 19, 2022

 Start time:

10:00 a.m

Contact  gwmarathon@dcroadrunners.org.
Participant list(registered)
Runner Tracking click here
Race Day free Shuttle check Transportation page
Packet Pickup
Location Greenbelt Youth Center (99 Centerway, Greenbelt MD 20770)
Saturday, February 18 from 5 pm to 8 pm
Sunday,  February 19 from 8:15 am to 9:45 am
Race Day Schedule
Sunday,  February 19

8:15am to 9:45am    Pre-race Packet pickup/Late registration
10:00am   Race start  Northway Road and Woodland Way 
12:00pm to 5:00pm Post-race Festivities
Award Ceremony
Note: Must be present to win, show bib to claim the award, please collect your award before leaving. Awards will not be mailed.
2:00pm    (Overall, masters, faster age-groups)
2:30pm  Age-groups
4:30pm  Finish Time
Parking  Limited FREE parking at Greenbelt Youth Center and streets around the Start/Finish line area. As always follow any parking restriction signs.
Bag Drop-off  You may leave small bags with us in the Multi-Purpose Room on Sunday. (Not responsible for personal property, etc., but you knew that.)
Timing and Bib Numbers: Bib number must be visible at all times during the race.  The race will be chip-timed using the Chronotrack chip timing system.  All runners will be given a net and gun time. Overall awards will be based on gun time and age groups based on net chip time.
Post-Race Festivities: Hot food, beverages, entertainment and awards at the Greenbelt Youth Center. Hot showers (or cold, if you prefer) are available in the gym.
Other info: Entry fees include hi-tech, long-sleeve shirt and post-race party, finisher medal,
2020 Solo Marathon and Relay Finisher's Medals: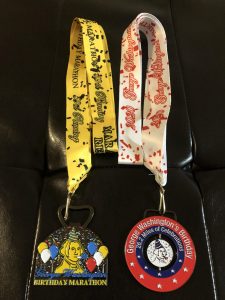 Safety and Earphones: We share roads with vehicle traffic. Personal audio is strongly discouraged; keep the volume down if you must.
No "early start"  For runners' safety, we are starting all runners together. We won't have police support, emergency medical technicians, course marshals, aid station staff or any other support services prior to this time. There are two highway intersections that are not safe for runners to cross without uniformed police presence, and the two-mile stretch on Springfield Road has no shoulder to run on. Runners present on the course outside the hours we've negotiated with USDA Beltsville Agricultural Research Center, Prince George's County and the City of Greenbelt violate our permits and jeopardize the availability of these venues to support future races. Please don't "run rogue."
Bad Weather arrangements, refunds, etc. Please read our "Terms of Service" carefully.
No refunds. No deferrals to next year's race.
Registrations may be transferred to another runner for a nominal fee.
Taking place in the Middle Atlantic region in the middle of February, this event has a significant chance of being canceled or modified due to severe weather. (See, among other horrible years, 2008, 2009, 2014 and 2015.) We reserve the right to cancel the race if, in our sole discretion, or if directed by public safety officials, weather conditions would expose runners, volunteers, motorists on local roads, or other participants to unacceptable risks, including but not limited to hypothermia and road conditions conducive to slipping and falling.
In the event of forecasted, unsafe weather, we will make a decision on Thursday afternoon of race week (February 16) whether to conduct the race as planned. We'll announce this decision on the web site and by email to registered runners.
If the Marathon is canceled due to weather, force majeure, acts of God or other unforeseeable circumstances, we will not re-schedule it nor will we mail your shirt, medal, bib and a partial refund. We may offer a "shirt pickup" event but are not obligated to do so. Working translation: we keep your money and donate the shirts to a shelter, just like all other marathons do.
Deteriorating weather conditions during the race may require us to truncate the course and direct runners back to Greenbelt.
Planning for the Marathon takes place over an extended period of time and we reserve the right to make changes to the event as may become necessary due to evolving circumstances, including the substitution of goods and services of reasonably comparable quality and value.
We reserve the right to disqualify runners for unsportsmanlike conduct, including being verbally abusive to race officials or volunteers before, during, or after the event, whether in face-to-face communication, email, or social media.
We reserve all rights to alter these terms of service at any time and for any reason.
Questions?